master_halda
Try to be gentle.
Friday, April 15, 2011
Leaving this space as it is
Will work on other craps from here
Thanks for wasting your time here.
Posted at Friday, April 15, 2011 by
master_halda
Tuesday, January 11, 2011
I managed to stay in the country for the whole year. Yeay!
I think I lost quite a few socks this year.
I finally accepted the fact that I can never be an astronaut.
I completed the Final Fantasy Xiii.
I haven't been lucky with my fishing days.
I once woke up in Andromeda.
I saw Orion being stung by a scorpion....

I & two others paid 25Ringgit sleeping fee + 10Ringgit blanket to sleep on a comfy chair in Cineleisure Platinum infront of the Legion.
I travelled to the future secretly and safely returned.
I am lost.
I think Betelgeuse is dead, what we're seeing now is the supernova type II.
I captured two of the Geminids meteor during their shower.....
and I finally saw the Malaysian Football team won a game, live. With a classy performance.
Posted at Tuesday, January 11, 2011 by
master_halda
Thursday, December 16, 2010
Geminids Shower 2010 is over....
The initial attempt of capturing Geminids shower ends up with none. This one is just an airplane that fly off at odd morning hour passing by the sky of Kampar, Perak.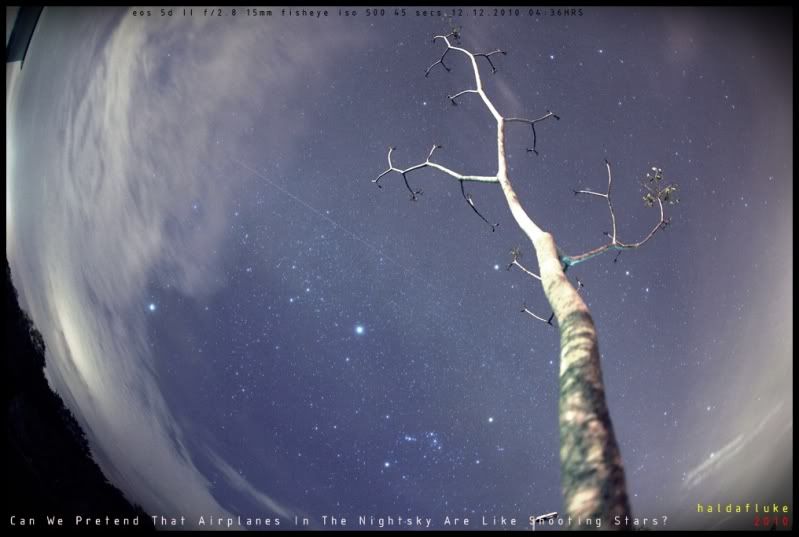 This one below was captured at the interval when there were group of occasional clouds, not too thick but enuff to kill the patience of waiting for every shots to be completed. That explains the truncated trails, many frames were removed to eliminate the thick low flying clouds.
The one below had a better cloud-free shots compared to the above. This is probably the darkest night I've ever been apart from those of metaphorically speaking. Sirius formed a real thick trail, an easy guess with the likes of distinguished Aldebaran nearby.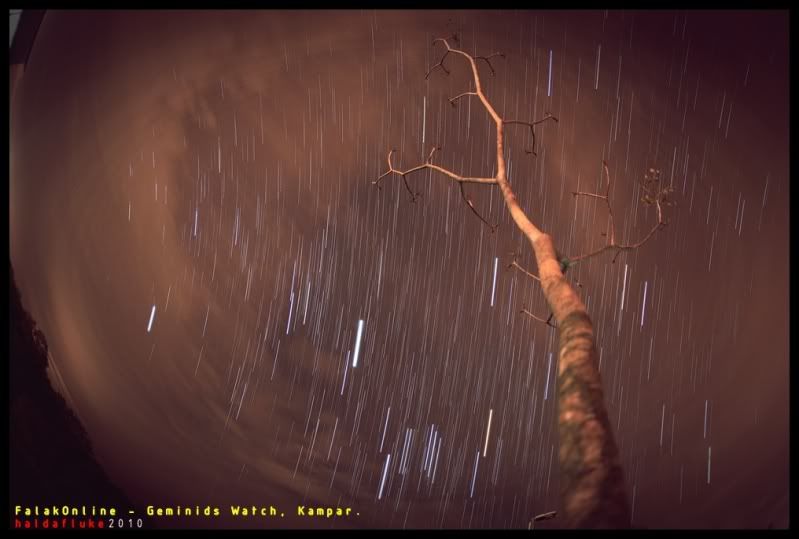 And that ended with no Geminids captured due to the fact that my shutter setting is relatively long & the bright micro second Geminids trail was cancelled out by the light pollution during the opened shutter duration.
So I made a few changes when I was in Teluk Kemang. Sky was not as impressive here, with the resorts & chalets few miles away along the coastline is an easy culprit of light pollution.
Clouds were everywhere that night, but two of my darker frames captured among the bright Geminids. Could've been better with a darker sky, and cloudless night.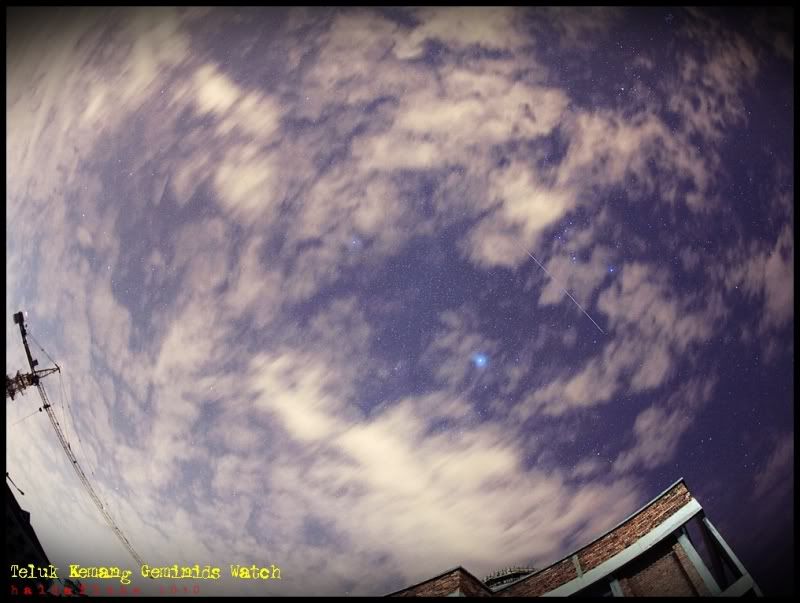 The gazing was done from the construction site for a Planetarium, as can be seen on the bottom right - there's a dome-like structure to be placed here for telescopes. And something tells me that this Planetarium will never get a good images of them heaven in future. This is clear to the fact that a hundred meters away where the tower crane sits on the bottom left of this image, is a construction of some Hotel.
How is a planetarium with an observatory being constructed a hundred meters away from major source of light? This is like the reality show of Big Fat Loser starts to feed them contestants with fast food, while at the same time asking them to exercise. Sigh........................
Anyway, here's the final shot of Geminids shower for the night, before the clouds took over.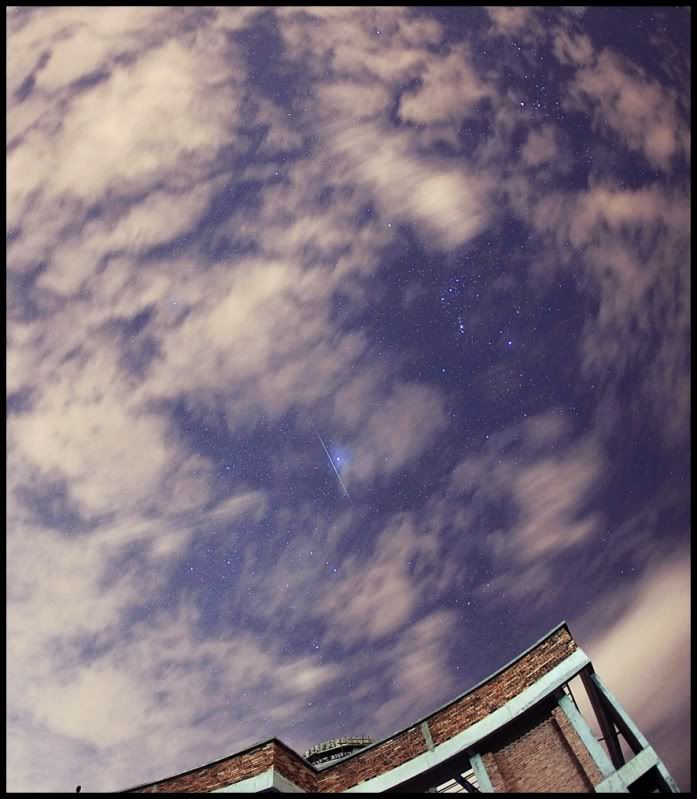 Maybe the time for a modified enhanced camera for this purpose is now here, only time will tell.
Posted at Thursday, December 16, 2010 by
master_halda
Saturday, December 04, 2010
i still walk with my eyes shut
Posted at Saturday, December 04, 2010 by
master_halda
Saturday, November 13, 2010
Tigger had a chronic renal failure. Following to that, he had anaemia. A complete combination of irreversible disease among cats. Tigger battled through until his last breath this morning at around 1030am, Nov 13th 2010 at home.
Tigger has been the most friendliest cat for many to remember. So friendly that he have no fear of others whenever he crossed his path. Tigger has coloured so many chapters, even in a brief amount of time. Yes you will be sorely missed by many, for whom you have touched their heart with your funny playful life.
Rest In Peace Tigger (as formerly known as Tuah).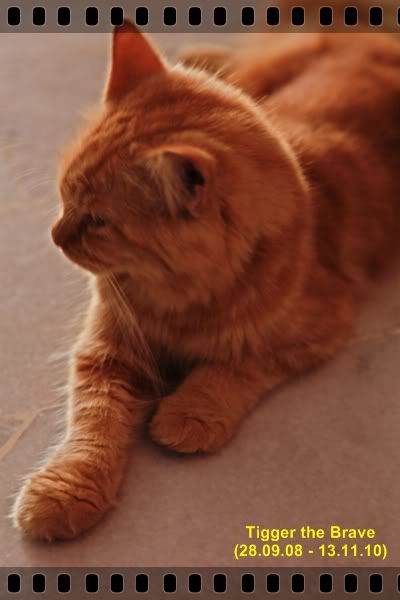 Posted at Saturday, November 13, 2010 by
master_halda
Tuesday, November 02, 2010
Do you believe in dream invasion?
I do.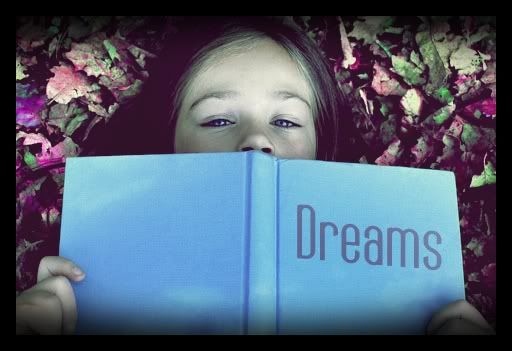 Christopher Nolan is a freak that he made Inception the movie so surreal, that it is so logical in its' own way yet it is still being described as that dream inception only occurs In a world where technology exists to enter the human mind through dream invasion.
Hello!
The real inception vs the hollywood version however differs in several ways that it actually occurs mutually in time-space continuum. In our dreams it always occur that there may be very little details perceived in each dreams. Nasha Aziz may just simply appears in your dreams serving you with what you thought was a fruit cocktail. Instead it was actually Nik Aziz who made it in the news when you last saw on TV the night before, delivering the speech of some sort.
For the initial attempts at perceiving something outside of our normal senses (as of in our dreams), precision is not necessary. Dreams are just nonsense for the most of time when we experience it; at least most of us believed so. And the most believed definition of a dream is that it is a mixture of past and projected thoughts on the current situation you are actually within.
For what it's worth this is wrong. Dreams are like a question with multiple choices of given answers for you to choose from. A question may not be answered right after, and a question may reappear in a different form of query and given choices. It is just the matter of learning to understand what was behind the thoughts of your dreams to appear in your sleep.
It all comes down to your ability to control the storyboard of your dream so that you will come out on top and wake up in your bed noticing that you have just been through a helluva proverbial nightmare.
Posted at Tuesday, November 02, 2010 by
master_halda
Monday, November 01, 2010
So I have played my last Mousehunt for a while already
Posted at Monday, November 01, 2010 by
master_halda
Tuesday, October 26, 2010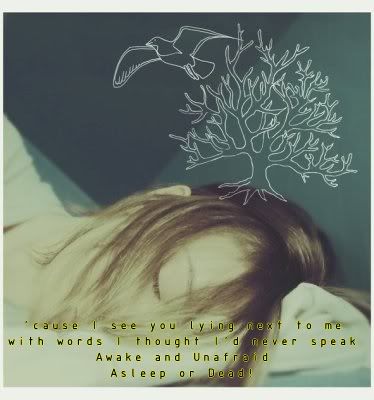 Posted at Tuesday, October 26, 2010 by
master_halda
Wednesday, August 18, 2010
The Final Completions for Ensco106, Malaysia 2010.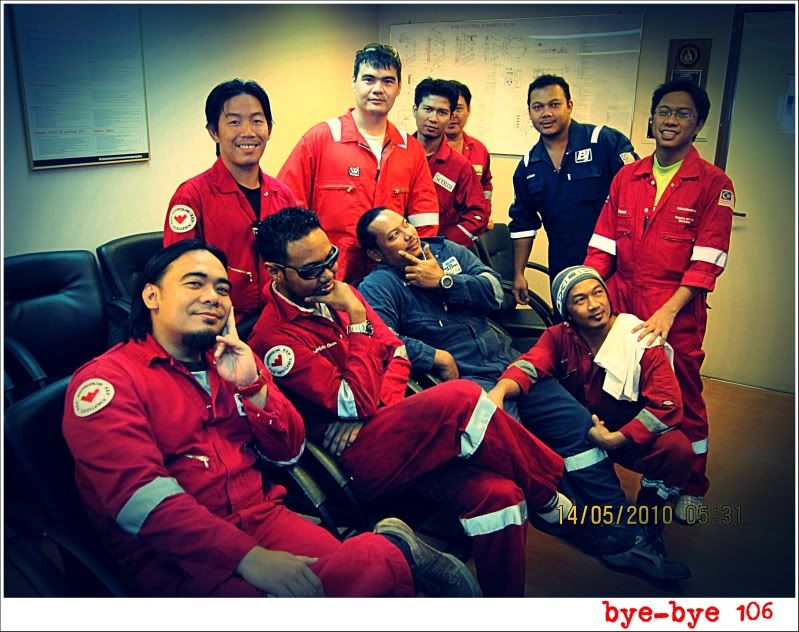 ( The image posted was taken in May after the completions of West Belumut A02 )
That was the final showdown for this year's easy-money-some-says-of-a-job. To me its not an easy money at all. Try being in the hot seat and liase with them in town with regards to the pettiest matter among all, the Tubular Drifting issue. Why on earth would 20% of your tubulars failed the drift? Try explaining to them that this is none of my business at all (but it really is my major concern), when the Other Department's Chief Crew who supplied the rabbit is on board and why am I being asked about it's tolerance, why not ask the Other Department's Chief Crew? Eh! I do understand that the company supply for at least 6 types of services & tools - with 3 departments adds up to about 20pax on board. But I don't speak on behalf of everybody right here. Irrelevance kills the likes of my appetite around it.
We completed the North Lukut A03 last weekend (14th Aug) and it was the first kind of task being done by NFX with the rig in the company's history in Malaysia. The whole workover & completions took about twice the time in comparison to the common wells prior to that. Well, its a workover.
Tis been a while that I have not spent Ramadhan offshore, be it in the vessel, platform or the rig. This year round only sees about 40+ of muslims in the mess room during iftar (Out of 140+ POB). My common view is either :-
2005, Frickin cold Campsite - breaking fast with just myself. I was probably the only muslim on a 10miles radius. It was a frickin secluded camp located some 15miles away from the Lunskoye plant site. It was more of a long standing by job, means I sleep during the daylight snowfall.
It was just me & my other crewmate breaking fast. (if i remember it correctly, it was on board DSV Fu Lai, with Yusoff Salim, 2006). Breaking fast with some questionably hygienic bread & likely questionably instant noodle. Well, eat that or starve. D Mason was there. He rolls them 2inches x 10m like an old woman trying to pull a Boeing with a walking stick.
The mess room is too crowded when there werent enuff space for the muslims on board. This was Platform Cakerawala, the Main. I was with the Saipem's rep, Norizam - [ budak ni aku yg sekolahkan (pre-2007) dia masa dia keje bawah aku!!!! ] 2007 - but this day I reported to him. I think he's a good man; for he didn't make an ass of himself during the whole duration that he was bossing me back around...!!
Well, 2010 shows my first Ramadhan offshore in 3 years. It was great. I love the company I have during the stay. I will see you guys again, InshaAllah.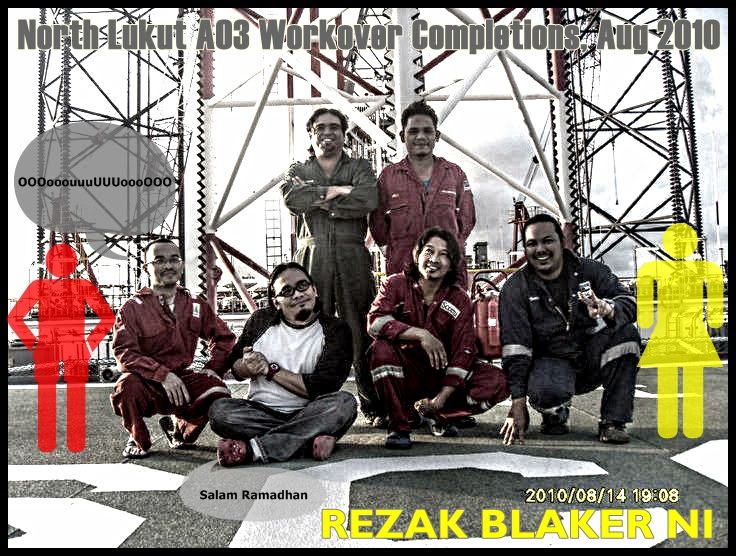 Posted at Wednesday, August 18, 2010 by
master_halda
Wednesday, August 11, 2010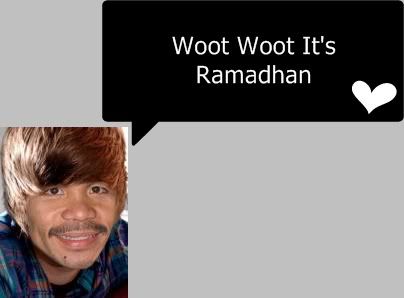 Posted at Wednesday, August 11, 2010 by
master_halda